April 4, 2019
An electrical short can cause the parts within the PCV valve to melt, increasing the risk of a fire, even when the vehicle is not in use.
NHTSA Campaign Number: 19V273
Manufacturer BMW of North America, LLC
Components ENGINE AND ENGINE COOLING
Potential Number of Units Affected 184,505
Summary
BMW of North America, LLC (BMW) is recalling certain 2006 525i, 525xi, 530i, 530xi, 530xi Sports Wagon, 325i, 325xi, 325xi Sports Wagon, 330i, 330xi, Z4 3.0i and Z4 3.0si vehicles. The heater for the positive crankcase ventilation (PCV) valve may short circuit.
Remedy
BMW will notify owners, and dealers will replace the PCV valve heater, free of charge. The recall is expected to begin May 28, 2019. Owners may contact BMW customer service at 1-800-525-7417. Note: This recall is an expansion to recall 17V-683.
Notes
Owners may also contact the National Highway Traffic Safety Administration Vehicle Safety Hotline at 1-888-327-4236 (TTY 1-800-424-9153), or go to www.safercar.gov.
Check if your BMW has a Recall
---
SIB 11 06 19
RECALL CAMPAIGN 19V-273: POSITIVE CRANKCASE
VENTILATION SYSTEM HEATER
Please perform the procedure outlined in this Service Information on all affected vehicles before customer delivery. In the event the customer has already taken delivery of the vehicle, please perform the procedure the next time the vehicle is in the shop.
This Service Information bulletin replaces SI B11 06 19 dated April 2019
What's New:
Procedure, Parts and Warranty Information added
Model
With the N52 or N52K engines.
Situation
The blow-by-heater which is designed to prevent the engine's Positive Crankcase Ventilation (PCV) system from freezing can internally short circuit. Irregularities in the manufacturing process could allow moisture to occur near the blow-by-heater and lead to the short circuit.
Affected Vehicles
This Recall Campaign involves E60, E61, E85, E86, E90 and E91 vehicles produced from February 2005 to October 2006.
Vehicles which require this Recall Campaign to be completed will show it as "Open" when checked either in AIR, the "Service Menu" of DCSnet (Dealer Communication System) or with the Key Reader.
[NOTE TO REVIEWER: CUSTOMER LETTERS FOR THIS NEW RECALL HAVE NOT YET BEEN MAILED]
CORRECTION
Replace the blow-by-heater (positive crankcase ventilation heater elbow).
PROCEDURE
Refer to the attached procedure to replace the blow-by-heater (positive crankcase ventilation heater elbow).
Parts Information
Note: Request and use the part numbers specified and listed below in this Service Information bulletin only. Performing a part number look-up for these parts in ETK by VIN or model will result in the wrong parts being used.
Please monitor the Parts Matrix for important updates to the parts ordering procedure.
| Quantity | Description | Part Number |
| --- | --- | --- |
| 1 | PCV Blow-by-heater (Elbow/Angle Connector | 11 61 2 458 830 |
| 1 | Set of aluminum screws for alternator | 12 31 2 458 831 |
| 2 | Screw for blow-by-heater | 11 61 7 535 849 |
And, if required as a result of the issue being addressed by this bulletin, use the intake manifold table below to determine which part number applies to your vehicle.
Identify the model first and then the engine variant to determine the correct intake manifold part number.
Repair harness for engine electrical harness:
Do not replace the entire engine electrical harness if only the PCV Blow-by-heater (Elbow/Angle Connector) electrical connector is damaged.
| Quantity | Description | Part Number |
| --- | --- | --- |
| 1 | Repair harness | 12 52 9 489 752 |
| 2 | Cable connector 1.5 – 2.5 mm | 61 13 8 353 748 |
| 2 | Shrinking hose | 61 13 1 379 833 |
For additional items that are not listed above, refer to ETK (EPC) and the repair instructions for information about one-time use fasteners, ventilation hoses, intake manifold, screws/bolts and gaskets that may also be needed or must be replaced to perform this repair.
Emissions Certificate Instructions
For California centers only: This Safety Recall involves an emissions compliant component. It is required by the California Code of Regulations that an executed orange "Vehicle Emission Recall – Proof of Correction" certificate (SD92-084, see illustration) be provided to each customer (for vehicles registered in the state of California), once this Recall on his or her vehicle has been completed.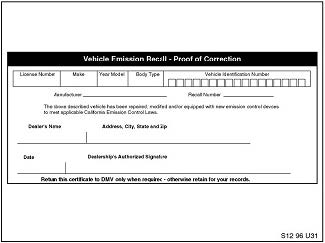 Warranty Information
Reimbursement for this Recall will be via normal claim entry utilizing the following information:
| | | |
| --- | --- | --- |
| Defect Code: | 00 11 24 05 00 | |
The vehicle is already in the workshop for another repair that includes Main work
Labor Operation:
Labor Allowance:
Description:
00 67 901
9 FRU (E60/61-AUTO/E90/E91);
10 FRU (E61-MANUAL);
13 FRU (E85/E86)
Replace the blow-by-heater (positive crankcase ventilation heater elbow) (Plus work)
Or:
The vehicle arrives at your center for this Recall repair (No other Main work will be performed/claimed during this workshop visit)
Labor Operation:
Labor Allowance:
Description:
00 67 294
10 FRU (E90/E91);
11 FRU (E60/E61-AUTO);
12 FRU (E61-MANUAL);
14 FRU (E85/E86)
Replace the blow-by-heater (positive crankcase ventilation heater elbow) (Main work)
AUTO = Automatic Transmission/ MANUAL = Manual Transmission
Please use the above FRU allowance data for invoicing only until the information becomes available in AIR.
Mobile Assistance – Off Site Repair
For centers that qualify, this Recall repair is eligible to be performed and submitted as a Mobile Assistance Off-Site Repair which includes an additional labor allowance.
Qualifying BMW centers are those that currently own and operate a Mobile Assistance Program vehicle. Other centers that may qualify are those who have officially registered their interest in conducting mobile service and mobile assistance work for the BMW Roadside Assistance Program.
If your center would like to register, please send an email with your contact information to [email protected].
Additional information can be found in the Mobile Assistance program guide in CenterNet, it is located under the Customer Relations menu.
Claim – Labor Reimbursement
When  this Recall repair is performed under the Mobile Assistance Program, qualifying centers will be reimbursed for the corresponding special labor operations published flat rate unit (FRU) allowance at a of rate of 150 percent. This mobile assistance repair work is subject to the same policy and procedures that apply to the warranty repair work being performed in your workshop.
Time Control and Documentation
While repair-specific punch times are not necessary for repairs performed on a vehicle offsite (outside your center) under the Mobile Assistance Program, , the on-call technician must still punch on the corresponding repair order (electronic or manual) prior to leaving your BMW center when he or she is dispatched. The technician must then punch off the repair order upon their return to your center.
In cases where the technician is out and on the road for an extended period of time (for example, on multiple calls), only one on and off punch time is required.
Claim Submission
In addition to the Positive Crankcase Ventilation (PCV) System Heater Recall repair order line item, please open an additional line item as described below:
| | | |
| --- | --- | --- |
| Defect Code: | 85 80 02 05 RA | Mobile Service Reimbursement for PCV Recall |
| Labor Operation: | Labor Allowance: | Description: |
| --- | --- | --- |
| 11 99 000 | ## FRU* | Additional labor allowance to perform off-site repair through Mobile Assistance |
*Labor Calculation Example
If the special flat rate labor operation to perform the PCV System Heater Recall repair on a specific vehicle has a stated allowance of 10 FRU, after applying the rate of 150 percent, this repair will then be reimbursed for a total of 15 FRU as a Mobile Assistance off-site repair:
Claim the additional 5 FRU or the applicable additional FRU amount using the defect code and labor operation provided above.
Notes:
Round up half flat rate units when applicable.
Identify this line time as Additional labor for a Mobile Assistance off-site repair.
Itemize the additional labor claimed and explain the repair performed on the repair order and in claim comment section.
Labor operation code 11 99 000 is not considered a Main labor operation.
Additional Repair(s)
When additional work and/or parts are required as a direct result of and/or in conjunction with replacing PCV heater elbow, claim these items under the defect code listed above together with the corresponding labor operations listed in AIR as applicable and as necessary.
And, also as applicable:
Alternative Mobility Solution (AMS)
This Recall repair qualifies for Alternative Mobility Solution (AMS) expense reimbursement, claim this item under the Defect Code noted above as follows:
Sublet Code 2 – Itemize the AMS sublet amount on the repair order and in the claim comment section.
Please refer to SI B01 29 16 for additional information.
Overlapping Labor Procedure
If invoicing the AIR flat rate labor operation codes for other repair work results in overlapping labor, for those flat rate labor operations that are affected, you can:
Replace the stated AIR FRU allowance with a reduced FRU value to eliminate the overlapping labor.
For help in identifying the overlapping labor, please refer to the AIR FRU Plausibility Check (Overlapping Labor Tool) that is located in the AIR Client.
Eligible other repair work being claimed under a different defect code will require separate punch times.
On the repair order and in the claim comment section, please identify and itemize those labor operations being claimed with a reduced FRU value.
TREAD Act – Previous Customer-Pay Repairs
If your center is presented with a reimbursement request for a qualifying customer-pay repair that was performed on an affected vehicle prior to the release of this Recall Service Information bulletin, BMW of North America, LLC (BMW NA) will reimburse this previous repair.
Customer-pay Invoice Review and Reimbursement Procedure
Review and verify that the previous customer-pay invoice (BMW center or independent repair shop) contains a repair that was performed to address the issue described in this Recall Service Information bulletin.
If this prior repair qualifies, reimburse the customer (labor and parts).
Submit for this customer-paid repair expense under Defect Code 85 99 00 12 NA, as follows:

Sublet Code 3
Dollar amount (with no markup)
Comment: Recall 19V-273: Positive Crankcase Ventilation (PCV) System Heater – Reimbursement for allowable expenses that relate to performing a prior qualifying customer-pay repair.
Itemize the sublet amount on the repair order and in the claim comments

Retain the original customer pay invoice in your files; this documentation may be requested by BMW during the claim review process).
Note: A previously reimbursed repair, a repair performed on a non-affected vehicle, and/or, the diagnosis and repair of other unrelated issues on an affected or non-affected vehicles does not qualify for reimbursement.
This claim submission for the prior customer-pay reimbursement, when it is submitted as outlined under Defect Code 85 99 00 12 NA, will not close the Open Safety Recall on the vehicle.
Supporting Materials
picture_as_pdf B110619 Recall Notice.pdf
picture_as_pdf 2019-BMW-MY2006-Exx-Fxx-PCV-Valve-Heater-QA-(4Apr2019)-FINAL.pdf
---
SAFETY RECALL NOTICE
To:  All Center Operators, Sales Managers, Service Manager, Parts Manager and Warranty Processor
RE: Recall 19V-XXX:  Positive Crankcase Ventilation (PCV) Valve Heater – B11 06 19
BMW of North America, LLC is conducting a Voluntary Safety Recall (effective April 4, 2019) on certain Model Year 2006 BMW vehicles that have been produced from February 1, 2005 through September 29, 2006.
Owners will be notified by First Class mail about the Recall and will be instructed to bring their vehicles in for a free repair when parts are available.
Please be reminded that it is a violation of federal law (The Safety Act) for you to sell, lease or deliver any new motor vehicle covered by this notification until the recall repair has been performed.  This means that centers may not legally deliver new motor vehicles to consumers until they are fixed or use/sell replacement equipment/parts subject to this recall.  Note also that substantial civil penalties apply to violations of the Safety Act. 
Also, you should not sell, lease or deliver any Certified Pre-Owned or used vehicles subject to a safety recall until the repair is completed. 
Please follow any special instructions that we provide to you for the return or disposition of recall parts.  
We appreciate all your assistance with this Recall.
---
Safety Recall 19V-xyz
Positive Crankcase Ventilation (PCV) Valve Heater – ("Blow-By-Heater")
Model Year 2006
N51, N52, N52K, N52T
BMW 3 Series, 5 Series, Z4
Last Update: 04/04/2019
Q1. Which BMW models in the US are potentially affected by this Safety Recall?
Approximately 184,511 BMW vehicles in the US, as noted below, are potentially affected.
Q2. What is the specific issue?
This issue involves the Positive Crankcase Ventilation (PCV) valve heater ("blow-by-heater") which is designed to prevent the engine's PCV valve from freezing.  The electrical contacts of the PCV valve heater are coated with a plastic material.  Irregularities in the manufacturing process could allow moisture to occur near the PCV valve heater and lead to a short circuit.
Q3. What can happen as a result of this issue?
In rare cases, the plastic material could overheat, lead to smoldering, and possibly melting.  In extremely rare cases, this could increase the risk of a fire.
Q4. This sounds familiar.  Did BMW Group conduct a Safety Recall before?
Yes, in 2017.  It was assigned Recall ID 17V-683.
Q5. What vehicles were recalled in 2017?
Certain Model Year 2007-2011 vehicles were recalled.
Q6. Can you be more specific?
Sure, the 2017 Safety Recall involved 1 Series, 3 Series, 5 Series, X3 SAV, X5 SAV, and Z4 models.
Q7. I own a Model Year 2006 vehicle.  Why is BMW only adding the Model Year 2006 vehicles now?
Continued monitoring of the situation has led us to include Model Year 2006 vehicles.
Q8. Why are other vehicles not included in this Safety Recall?
Other models have different designs for the PCV valve heater.
Q9. Do I need to stop driving my vehicle?
No.  The possibility of this issue occurring is extremely rare.
However, you should stop driving your vehicle if any of the following warning signs occur:
You see smoke from the area near the engine compartment.
You smell smoke, or a plastic burning odor.
If any of these warning signs occur, then as soon as possible, carefully move away from traffic, pull over to a safe location, and shut off the engine.  All occupants should carefully exit the vehicle and move to a safe location away from traffic.  Do not continue to drive your vehicle.
Dial 911 in the event of an emergency or contact an authorized BMW center immediately to have your vehicle brought to the nearest authorized BMW center for inspection and, if necessary, repair.
If an authorized BMW center is not available, then contact BMW Roadside Assistance at 1-800332-4269.  Please note that if you no longer have roadside coverage, you may be required to pay in advance for the towing service.  However,   BMW will reimburse you for the towing service after validation of the recall repair claim.
Q10. Can I determine if this issue exists in my vehicle?
No.  This can only be determined through proper inspection at an authorized BMW center.
Q11. How did BMW become aware of the problem?
BMW became aware of the problem through our quality control procedures.
Q12. How will I be informed of this Safety Recall?
You will receive an initial letter in early June via First Class mail advising you of this Safety Recall.  Due to the large vehicle population, sufficient parts may not be immediately available to repair all vehicles.  Therefore, you may receive a second letter as parts become available.  When you receive a letter indicating that parts are available, please immediately schedule an appointment with an authorized BMW center to have this Safety Recall performed.  The nearest authorized BMW center can be located at www.bmwusa.com/dealer.
To ensure BMW has the most recent contact and vehicle information, owners should register their vehicle at www.bmwusa.com/myBMW.  Registration is free, and will give them access to factory initiated campaigns and other information specific to their BMW.
Q13. How will my vehicle be repaired?
The PCV valve heater will be inspected and a new part will be installed.  In some cases, additional components may need to be replaced which will be determined at the time of repair.
Q14. How long will the repair take?
This repair should take approximately one to two hours, depending upon the specific repair necessary; however, additional time may be required depending upon your BMW center's schedule.  The repair will be performed for free by your authorized BMW center.
Q15. Do I have to wait for my letter to have my vehicle serviced?
Yes.  We are in the process of implementing this Safety Recall to ensure that the necessary parts, tools, and procedures are available, prior to contacting you to schedule your vehicle to have this Safety Recall performed.  For the latest updates to this recall, please visit www.bmwusa.com/recall.
Q16. I see the "TREAD Act Customer Reimbursement Plan" attached to my letter.  Can you explain what that is about?  Am I eligible for reimbursement?
If you have already had this repair performed at your own expense, you may be eligible for reimbursement of certain expenses that you incurred.
---
9 Affected Products
Vehicles
---
4 Associated Documents
Recall Acknowledgement
RCAK-19V273-2978.pdf 332.195KB
---
Manufacturer Notices(to Dealers,etc)- April 4, 2019
RCMN-19V273-7808.pdf 174.625KB
---
Defect Notice 573 Report
RCLRPT-19V273-2439.PDF 218.124KB
---
Remedy Instructions and TSB
RCRIT-19V273-7002.pdf 234.348KB
---
Recalls Documents
https://www-odi.nhtsa.dot.gov/acms/cs/documentList.xhtml?docId=19V273&docType=RCL
---
Bestseller No. 1
Bulary V4.94 DIGIPROG3 Car Odometer Diagnostic Meter v4.94 Version Obd2 Configuration
1. EEPROM Menu The first option on the main menu is the Eeprom menu. Reading, writing and saving Eeprom information is all done using this menu. A more detailed guide to using this menu follows later on in the introduction.
2. CAR / TRUCK Menu This is the menu you will use for correcting and reprogramming vehicles. Manufacturers are set out in alphabetical order and models of vehicles are set out in a simple sub-menu format.
3. Special Functions Menu The special functions menu is for use only by official DigiProg dealers.
4. Setup Menu This menu is where settings on your DigiProg can be changed. Language, password, brightness, volume, and the time / date can all be set and changed in this menu. You can also change whether your machine is working in kilometres or miles.
5. Using the EEPROM Menu: On some of the vehicles you will come across, an eight pin Eeprom chip will be used to store the vehicle data.
Sale
Bestseller No. 2
Autel MK908P Automotive Diagnostic Scanner with ECU Coding and J2534 Reprogramming with Free Maxi TPMS PAD
As an upgraded version of the MS908P,same function as MS908S PRO and MaxiSys Elite. This superior diagnostic device is awarded as the Best Vehicle Diagnostic Tool in Britain, and characterized by its high-end diagnostic features with easy-to-use operations. It's an ultimate car scanner for DIYers, experienced mechanics, even garage to finish professional-level vehicle repair and maintenance.
This top-level OBD2 scanner comes with a SAE J2534-1 & -2 compliant PassThru reprogramming interface device which allows you to use the updated OEM software to replace the existing software/firmware in ECUs, programming new ECUs for Benz/BMW and fixing software-controlled drivability issues and emission issues.
This Android4.4 based high-end car scanner is designed with the advanced hardware configurations including super-fast hexa-core Processor, 2GM RAM, 64GB On-board Memory, 8.0 Megapixel rear cam, ultra-clear 10.1 inches LED screen etc. for users to detect the problems of the given vehicle efficiently and accurately.
This diagnostic scan tool is built for testing more than 80 US, Asian and European vehicle makes and you can use it to test more vehicles when you complete the update at our official website once in a while. It is basically a bidirectional scanner that allows you to send and receive data to and from a car's control modules.
In order to bring convenience for users to manage all the data and parameters stored in this diagnostic tool, Autel MK908P supports the following user-friendly managing functions: Shop Manager Operation, MaxiFix Operation, Data Manager Operation, etc. to quickly and directly select the required referring information while diagnosing.
Bestseller No. 3
Bestseller No. 4
Autel MaxiCOM MK908P Diagnostic Scanner Automotive Scan Tool with ECU Programming and J2534 Reprogramming + Free Oscilloscope MaxiScope MP408
【SUPERIOR CODING & PROGRAMMING】 Supports coding and programming especially for BMW and Mercedes. With the VCI of MK908P for SAE J2534-1 and J2534-2 protocols, it can replace the existing software and firmware in ECU without expensive original equipment.
【WIDE DIAGNOSTIC SOLUTIONS】 Well capable of VCM coding and programming, TPMS coding, intelligent cruise control (ICC), ECU coding, live data, dashboard matching, airbag system reset, anti-theft key matching and more.
【POWERFUL DIAGNOSTIC TOOL】 The oscilloscope MP408 combine with MaxiCOM MK908P is able to measure and test virtually all the electrical and electronic components and circuits in any modern vehicles, providing you an insight to the inner workings of a vehicle's electronic circuits.
【HIGH-EFFICIENCY OF USE】 Being MS908P upgraded, it is Autel's latest and most sophisticated diagnostic scanner which boasts the best hardware including Hexa-CPU, 2GB RAM etc. for fast boot-up and multitasking, and the ergonomic design to resist damage of heavy use.
【WARRANTY & UPDATE】 You can get quality related services within 12 months warranty, besides, 12 months free online update is available for the latest bug fixes and newly added parameters and car models.
Sale
Bestseller No. 5
Bestseller No. 6
Autel Maxisys Pro MS908p Wifi Automotive Diagnostic Tool with J2534 ECU Programming Free Updated Online
The MaxiSys Diagnostic Platform is an evolutionary smart solution for specialized automotive diagnosis and ECU programming
Extensive vehicle coverage for more than 80 US, Asian and European vehicle makes
9.7 inch 1,024x768 LED-backlit glossy widescreen Multi Touch display with IPS technology
Complete capabilities for codes, live data, actuation tests, adaptations, coding and ECU programming
One Year Free Update Online, Free Shipping by DHL All Around the World, 3-5 Days Delivery
Sale
Bestseller No. 7
Bestseller No. 8
Autel MaxiCOM MK808 Automotive OBD2 Scanner (Combination of MaxiCheck Pro and MD802 All Systems) with Oil Reset, EPB, BMS, SAS, DPF, TPMS and Immobilizer
Advanced Functions : Read/clear codes for all available systems ( including engine, transmission, ABS and AIRBAG ), Bi-directional control ability. Support auto bleed test, Forced DPF regeneration and adjusting injectors. Relearn parking brake pad after replacement (brake reprogramming) and IMMO functions (key configuration).
Superior Features : Relearn/ reset throttle body positions. Reset Steering Angle Sensor (SAS, steering wheel calibration). Reset service mileage and service intervals. TPMS sensor relearn, Battery registration and reset, Reading automatic gearbox. Shows the vehicle's operation graphs. Adjust idle/ Relearn idle, Cycle the abs system to evacuate air, Bleed ABS pump/ ABS bleeding brake.
Cost-Effective : The automotive diagnostic scanner supports basic TPMS Service (Tires Pressures Monitoring System) including displaying sensor IDs from vehicle's ECU by inputting TPMS sensor replacement IDs and registering sensors to vehicle.
Extensive Vehicle Coverage : This diagnostic scanner is compatible with all OBD2 protocols and works on over 80 US, Asian and European vehicle makes after 1996. Smart AutoVIN technology for identifying vehicles easily. IMMO, the unique function MK808 is mainly used to disable the lost vehicle keys and program a new replacement key fob.
Update : Automatic system and software updates with real-time push message notifications via Wi-Fi. The most competitive advantage of MK808 is its add-on services for the well data arrangement and better using experience.
Sale
Bestseller No. 9
Forscan ELM327 Scanner OBD2 USB ELMconfig FoCCCus Diagnostic Scan Tool with MS-Can/HS-Can Switch for Ford Mazda for Windows
Forscan ELM327 with stable Hardware V1.5, Support all OBD2 Protocols, this device works as normal OBD2/EOBD code reader on most supported vehicles.
Ford ELMconfig USB device with Constant speed set to 500000 baud (500 kbit/s),Design with Switch : MS CAN bus and HS CAN bus mode.
Special Function: Add functionality for Ford cars, Even support hidden function for ford Focus Mondeo Kuga.(Hidden function Support car list: 2006-2016 classical for Focus , 2012-2015 new for Focus , 2013-2015 Kuga)
Powerful Softwares Compatible: FORScan, Elmconfig, FF2 and FoCCCus, Scanmaster plus more
Drivers and instructions included,for 32 /64 bite Windows,Easy to install.
Sale
Bestseller No. 10
Last update on 2019-05-27 / Affiliate links / Images from Amazon Product Advertising API
Last update on 2019-05-27 / Affiliate links / Images from Amazon Product Advertising API