January 30, 2019 NHTSA CAMPAIGN NUMBER: 19V074000
Taillights May Loosen and Detach
If a taillight detaches from the vehicle, it would no longer provide the required lighting to following traffic, or it may become a road hazard, increasing the risk of a crash.
NHTSA Campaign Number: 19V074
Manufacturer BMW of North America, LLC
Components EXTERIOR LIGHTING
Potential Number of Units Affected 5,920
Summary
BMW of North America, LLC (BMW) is recalling certain 2018-2019 BMW X1 sDrive28i and X1 xDrive28i vehicles. Contaminated hardware may cause the attachment brackets of the taillight housings to crack, causing the lights to loosen or possibly detach from the vehicle.
Remedy
BMW will notify owners, and dealers will properly secure the taillights, free of charge. The recall began March 28, 2019. Owners may contact BMW customer service at 1-800-525-7417.
Notes
Owners may also contact the National Highway Traffic Safety Administration Vehicle Safety Hotline at 1-888-327-4236 (TTY 1-800-424-9153), or go to www.safercar.gov.
Check if your BMW has a Recall
---
SIB 63 02 19
RECALL CAMPAIGN 19V-074: REAR TAIL LIGHT
2019-02-25
Please perform the procedure outlined in this Service Information on all affected vehicles before customer delivery. In the event the customer has already taken delivery of the vehicle, please perform the procedure the next time the vehicle is in the shop.
This Service Information bulletin replaces SI B63 02 19 dated February 2019
What's New:
Part number updated
Parts Information section updated
Warranty Information section updated
MODEL
Produced from October 5th, 2018- January 18th, 2019.
SITUATION
One or both tail lights may be loose.
AFFECTED VEHICLES
This Recall Campaign involves 8,489 F48 X1s produced from October 5, 2018 to January 18, 2019.
Vehicles which require this Recall Campaign to be completed will show it as "Open" when checked either in AIR, the "Service Menu" of DCSnet (Dealer Communication System) or with the Key Reader
CAUSE
During assembly, oil may have contaminated the plastic housing of the rear tail lights, causing damage to the mounting points of the tail light assembly.
CORRECTION
Inspect the rear tail light assemblies for signs of oil or cracking. Replace the tail light assembly if oil is found or tail light assembly is damaged.
PROCEDURE
1. Remove the water channel trim on both tail lights, following repair instructions REP 63 21 400 "Replace trim for water channel (left or right).
2. Before removing the tail light mounting nuts, carefully inspect the tail light mounting areas shown to the left for signs of cracking.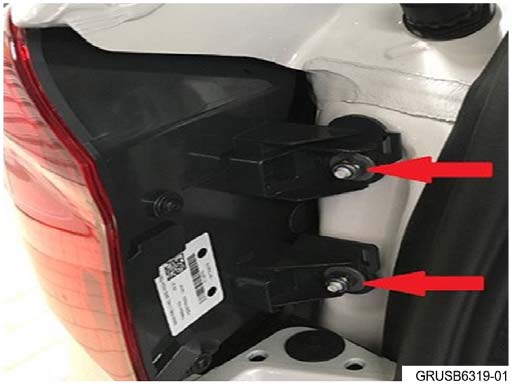 Ensure the tail lights are only replaced in case of cracking.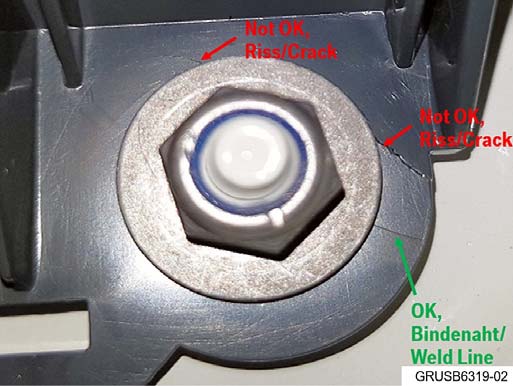 3. Regardless of whether the rear lights are cracked, remove both rear tail lights following repair instructions REP 63 21 260 "Removing and installing/replacing left, rear light (on side wall)".
4. Immediately secure the tail light mounting nuts so that they cannot be reused.
5. With the tail lights removed, re-inspect both sides of the tail light mounting tabs for signs of cracking.
Inspect the mounting tabs of the tail lights for signs of oil residue. Examples of oil residue on the mounting tabs can be seen to the left. All 3 photos to the left show indications of oil residue and are NOT OK.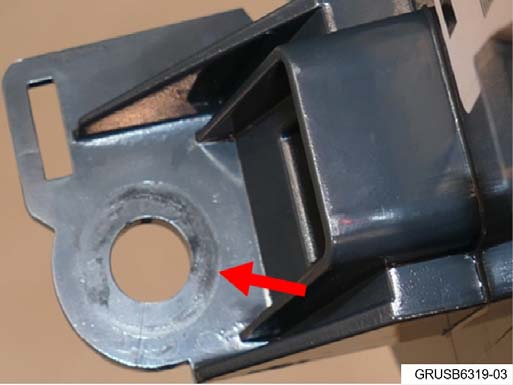 Inspect the threaded studs on the body and the mounting nuts for signs of oil residue.
Step 6 will be performed regardless of the results of the tail light inspection.
6. With the rear lights removed from the vehicle, the tail light mounting studs and vehicle body MUST be cleaned to remove potential residual manufacturing oil.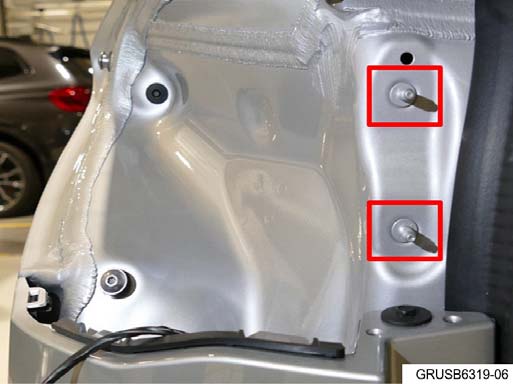 Using an 80% ethanol/20% water mixture on a clean cloth, clean the mounting studs and body area shown to the left.
Ethanol can be locally sourced in the form of denatured alcohol
Using any other cleaning solution will cause damage to the vehicle.
Do not allow the replacement tail lights to come into contact with the cleaning solution.
7. Were cracks or oil residue found on the tail light mounting tabs?
YES: Replace the damaged tail light(s) and continue to step 8.
NO: Continue to step 9.
8. Replace all tail light mounting nuts. Torque the replacement nuts to 2.8nm.
9. Completely re-assemble the vehicle.
For any vehicle found with damaged lights:
Pictures of rear lights which show the condition of the holder before a repair or handing the vehicle over to the customer (with OK lights) for documentation must be sent to the following e-mail address:
US_Body_Electrical_TS@bmwna.com
Information to be report back (please include in the email):
VIN number
Production date of vehicle
And fault found

Crack over a big area in tail light bracket left/right
Broken rear light bracket left/right or eye loop left/right
PARTS INFORMATION
Only replace the tail light assemblies if required after inspection. Not all vehicles will require tail light assembly replacement. Please refer to the Parts Matrix for the parts ordering procedure.
| Description | Quantity | Part Number |
| --- | --- | --- |
| Self-locking Hex-nut | 4 | 64 50 9 123 157 |
| If required: | | |
| Rear light in the side panel, left | 1 | Refer to ETK/AIR |
| And/or: | | |
| Rear light in the side panel, right | 1 | Refer to ETK/AIR |
WARRANTY INFORMATION
Reimbursement for this Recall will be via normal claim entry utilizing the following information:
Completion "before" the first vehicle delivery to a customer or the vehicle is already in the workshop
Labor Operation:
Labor Allowance:
Description:
00 67 775
4 FRU
clean all threaded studs, and replace 4 mounting nuts
Or:
00 67 776
4 FRU
Replace one tail ligh
Or:
00 67 777
4 FRU
Replace both tail lights
And if the vehicle requires tail light replacement:
00 63 833
4 FRU
Administrative time to email photos and vehicle
information to US_Body_Electrical_TS@bmwna.com
The vehicle arrives at your center for this Recall repair (No other Main work will be performed/claimed during this workshop visit)
Labor Operation:
Labor Allowance:
Description:
00 67 203
5 FRU
clean all threaded studs, and replace 4 mounting nuts
Or:
00 67 204
5 FRU
Replace one tail light
Or:
00 67 205
5 FRU
Replace both tail lights
And if the vehicle requires tail light replacement:
00 63 833
5 FRU
Administrative time to email photos and vehicle
information to US_Body_Electrical_TS@bmwna.com
Posted: Monday, February 25, 2019
B630219 Recall Notice.pdf
2019-F48-RearLampAttachment-QA-final (28Jan2019).pdf
---
SAFETY RECALL NOTICE
To: All Center Operators, Sales Managers, Service Manager, Parts Manager and Warranty Processor
RE: Recall 19V-XXX: F48 Rear Lamp (B63 02 19)
BMW of North America, LLC is conducting a Voluntary Safety Recall (effective January 30, 2019) on certain Model Year 2018-2019 BMW X1 SAV vehicles that have been produced from October 8, 2018 through January 19, 2019.
Owners will be notified by First Class mail about the Recall and will be instructed to bring their vehicles in for a free repair when parts are available.
Please be reminded that it is a violation of federal law (The Safety Act) for you to sell, lease or deliver any new motor vehicle covered by this notification until the recall repair has been performed.  This means that centers may not legally deliver new motor vehicles to consumers until they are fixed or use/sell replacement equipment/parts subject to this recall.  Note also that substantial civil penalties apply to violations of the Safety Act. 
Also, you should not sell, lease or deliver any Certified Pre-Owned or used vehicles subject to a safety recall until the repair is completed. 
Please follow any special instructions that we provide to you for the return or disposition of recall parts.
We appreciate all your assistance with this Recall.
---
Rear Lamp
Safety Recall 19V-xxx
Model Year 2018-19
BMW X1 SAV
Last Updated 01/28/2019
Q1.
Which BMW Group models in the US are potentially affected by this Safety Recall?

Approximately 8,489 Model Year 2018-2019 BMW X1 SAVs in the US, produced between October 5, 2018 and January 18, 2019, are potentially affected.

Q2.
What is the specific issue?

The rear lamp of the vehicle could become loose.  In some cases, such as driving over a large pothole, the lamp could separate from the vehicle housing, although it would still be connected to the vehicle by its electrical wiring.

Q3.
What can happen as a result of this issue?

If the rear lamp separates from the vehicle, it would no longer provide the required lighting to drivers of following vehicles. In an extreme case, the rear lamp could fall off of the vehicle, creating a risk for other road users.

Q4.
Why are other BMW Group vehicles not included in this Safety Recall?

The attachment of the rear lamp on other vehicles was performed according to specifications.

Q5.
How did BMW Group become aware of this issue?

BMW Group became aware of this issue through its quality control procedures.

Q6.
Can I determine if this issue exists in my vehicle? 

If you notice an unusual noise and/or vibration from the area of the rear lamp, your vehicle may be experiencing this issue.

Q7.
What should I do if I notice this condition in my vehicle?

If this condition occurs, please contact your authorized BMW center immediately to have this Safety Recall performed.

Q8.
Can I continue to drive my vehicle (before I receive my letter)?

Yes.  However, when you receive a letter requesting you to make an appointment to have this Safety Recall performed by an authorized BMW center, please do so as soon as possible.  If you are not the only driver of this vehicle, please advise all other drivers of this important information.

Q9.
How will my vehicle be repaired?

The rear lamp of the vehicle will be inspected.  Depending upon the results of the inspection, either the rear lamp attachment hardware, or, the rear lamp itself, will be replaced.  This will be performed for free and can take up to one hour.

Q10.
Is BMW Group aware of any accidents or injuries in the US, involving these BMW Group vehicles associated with this Safety Recall?

No.

Q11.
How will I be informed of this Safety Recall?

You will receive a letter in March via First Class mail advising you of this Safety Recall.  Depending upon parts availability, this letter may request you to schedule an appointment with an authorized BMW center to have this Safety Recall performed.  If parts are not immediately available, you will receive a second letter when parts become available, advising you to schedule an appointment with an authorized BMW center at that time to have this Safety Recall performed.  You can locate your nearest authorized BMW center at www.bmwusa.com/dealer.

To ensure the BMW Group has your most recent contact and vehicle information, please register your BMW vehicle at www.bmwusa.com/myBMW.  Registration is free, and will give you access to factory initiated campaigns and other information specific to your vehicle.

Q12.
How long will the repair take?

This repair could take approximately one hour; however, additional time may be required depending upon your BMW center's schedule.  The repair will be performed for free by your authorized BMW center.

Q13.
Do I have to wait for my letter to have my vehicle serviced?

Yes. We are in the process of implementing this Safety Recall to ensure that the necessary parts are available.  For the latest updates to this Safety Recall, please visit www.bmwusa.com/recall.
---
2 Affected Products
Vehicle
MAKE
MODEL
YEAR
BMW
X1
2018-2019
---
14 Associated Documents
Recall Quarterly Report #1, 2019-1
RCLQRT-19V074-4660.PDF 211.13KB
RCLQRT-19V074-4660

---
Remedy Instructions and TSB
RCRIT-19V074-7745.pdf 1433.795KB
RCRIT-19V074-7745

---
Remedy Instructions and TSB
RCRIT-19V074-8534.pdf 315.288KB
RCRIT-19V074-8534

---
Recall 573 Report – Amendment 1
RCLRPT-19V074-5432.PDF 214.52KB
RCLRPT-19V074-5432

---
Recall Acknowledgement
RCAK-19V074-7208.pdf 245.763KB
RCAK-19V074-7208

---
Remedy Instructions and TSB
RCRIT-19V074-8078.pdf 296.008KB
RCRIT-19V074-8078

---
Manufacturer Notices(to Dealers,etc) – February 14, 2019 DCSnet Message Urgent Subject: BMW Delivery Stop & Recall 19V-XXX: F48 Rear Lamp
RCMN-19V074-3528.pdf 203.382KB
RCMN-19V074-3528

---
Defect Notice 573 Report
RCLRPT-19V074-3284.PDF 214.515KB
RCLRPT-19V074-3284

---
Remedy Instructions and TSB
RCRIT-19V074-4162.pdf 315.242KB
RCRIT-19V074-4162

---
Miscellaneous Document – Dealer Message 2/22/19
RMISC-19V074-9736.pdf 126.542KB
RMISC-19V074-9736

---
Remedy Instructions and TSB
RCRIT-19V074-7620.pdf 308.796KB
RCRIT-19V074-7620

---
ISSUED Owner Notification Letter(Part 577)
RCONL-19V074-5168.pdf 1148.014KB
RCONL-19V074-5168

---
Recall Quarterly Report #2, 2019-2
RCLQRT-19V074-8336.PDF 211.23KB
RCLQRT-19V074-8336

---
Recall Quarterly Report #3, 2019-3
RCLQRT-19V074-1923.PDF 211.314KB
RCLQRT-19V074-1923

---
Latest Recalls Documents
https://www-odi.nhtsa.dot.gov/acms/cs/documentList.xhtml?docId=19V074&docType=RCL
---
Sale
Bestseller No. 2
SYLVANIA - 168.TP 168 Basic Miniature Bulb, (Contains 10 Bulbs)
See Sylvania's Application Guide in the Technical Details below to confirm compatibility
Made from high quality material for long lasting durability
Produced by a trusted OEM (Original Equipment Manufacturer) light source supplier
Easy installation as a direct replacement bulb
Legal for on road use
Bestseller No. 3
20 PCS LED Interior Car Lights - T10 31mm 42mm LED Car Bulb Kit, Reading Dome License Plate Light for Car
LED Interior Car Lights Kit: The package includes 20 pieces of dome lights in 3 sizes, Model T10: approx. 25 x 10 mm/ 0.98 x 0.39 inches, Model 31mm: approx. 31 x 20 mm/ 1.22 x 0.79 inches, Model 42mm: approx. 41 x 10 mm/ 1.61 x 0.39 inches. Different sizes of LED lights are available to meet the lighting needs of different parts of your car.
Wide Range of Compatibility: Our LED interior car lights are compatible with many kinds of sockets, Model T10 : W5W 194 168 147 152 158 159 161 168 184 192 193 194 259 280 285 447 464 501 555 558 585 655 656 657 1250 1251 1252 2450 2652 2921 2825 504 2821, Model 31mm Festoon: 560 578 211-2 212-2 214-2 2112 2122, Model 42mm Festoon: 211 211-2 212-2 214-2 6413 6429 4410 560 578. Please check the size of your socket carefully before purchasing.
Quality Material: Made of quality LED bulbs and PC, the dashboard lights are compact and sturdy in structure, not easy to break or deform.
Convenient to install: The installation of the LED lights is easy because they have negative and positive polarity, you only need to remove the damaged bulb and install these festoon LED bulbs with the correct polarity, without taking too much time and effort.
Applications: You can use these LED lights as headlights, map lights, license plate lights, vanity mirror lights, door control lights, concierge lights, etc. to bring you a bright and clear visual experience when you are in a dark environment.
Bestseller No. 4
194 T10 W5W Led Bulb Super Bright White 6500K CANBUS 168 Wedge LED Replacement Bulbs Error Free For Car Interior Light Dome Map Door Side Marker Courtesy License Plate Lights,16 Pack
【High Brightness】16 Pack T10 LED bulbs,3030 Chip 2-SMD, 130LM/Piece brighter than the Halogen bulb, low heat generation,energy-saving and much longer lifespan.
【T10 - Cross Reference】W5W 168 194 2825 147 152 159 159 161 184 192 2827, etc.
【Application】Use for interior lights(dome,map,door,cargo, mirror,glove box,courtesy,trunk lights) , license plate lights,side marker light,position light,corner lights, inner tail lights and etc.Most cars fit more than 1 position.
【Non-polarity designed and Easy Installation】Plug & play, can replace the origin T10 sockets directly.
【Buy with Confidence】 Feel free to contact us if you have any problem. Please note they are not 100% error free, so they may still cause an error message on some vehicles.
Bestseller No. 5
48 Pieces LED Car Bulb Kit Set Dome Light Festoon Interior Car Lights Auto Accessories Lights Automotive Interior and Convenience Bulbs for Car Map Door Courtesy Parts Replacement, White, 3 Types
Enough and Various to Use: the package includes 3 different designs of LED interior lights, 16 pieces each, totally 48 pieces, enough to meet your daily use and replacements needs, you can choose different design of light to use according to your actual needs
Various Sizes to Meet Your Different Needs: the LED interior lights are featured in 3 different sizes, each design has 1 sizes, including about 25 x 10 mm/ 0.98 x 0.39 inches for T10 bulbs, about 31 x 20 mm/ 1.22 x 0.79 inches, and about 41 x 10 mm/ 1.61 x 0.39 inches, different sizes to meet your diverse needs, also compact to store and carry
Widely Applicable and Serve You Long: the interior LED lights for cars are designed with power of 3W, voltage of 12V and temperature of 6500K, lasting for about 50000 hours; The interior LED lights for cars are compatible with various sockets, including 192, 158, W5W, 12V, PC175, 501, 194, 175, 906, 2825, 168, 904 and 161, and the dome light bulb is compatible with sockets' models of 560, 211-2, 578, 212-2, 2112, 214-2 and 2122
Stable and Serviceable: the LED interior bulbs are mainly made of PC and LED bulbs, with stable structure and performance, without breaking or deforming easily, convenient to install with the correct polarity; The map lights have inserted IC drivers for no delay and no flickering, bringing you stable and pleasant use experience
Multi functional Light: these interior car lights LED bulbs can be applied for home, yard, garden, dressing room, living room, car and more, as car interior dome light, cosmetic mirror lights, map lights, glove box light, door lights, courtesy lights, trunk cargo light, license plate lights and more
Sale
Bestseller No. 6
Rosarivae Christmas Car Reflective Bulb Lights 1 Set Xmas Car Decorations Magnets and Decals Automotive Bulb Sticker Multipurpose Holiday Magnet Bulb Sticker Vinyl for Fridge Garage
This Christmas Reflective Car Magnets Set will create a festive touch feeling for your car, refrigerator, or another metal surface during the Christmas holidays, also as the perfect Christmas gift to your friends.
We have put the joy of the holiday into this gorgeous Christmas car refrigerator decorations. This adorable Christmas magnet set adopts with reflective design, when the light hits its surface, it will refract the light and will make you safer in the nighttime. The smoothly rounded corner is designed to better protect your loved car. It will be a surprising Christmas car decor on your holiday.
Easy to stick to your car, fridge, metal door, cabinets, or garage door, and not easy to fall, durable and reusable for a long time. Decorate your car or home with this beautiful magnet and you will get many compliments from it.
You just place the magnets on your car or refrigerator directly, convenient, fast, and time-saving. What's more, the Christmas car decorations set is not fridged decorations, you can post your child?s artwork, notes, shopping lists, or household bills on your fridge with the help of one of these magnet sets.
We offer you reliable after-sales service. If you have any questions about our products or any problems with your packages, please feel free to contact us.
Bestseller No. 7
ZABURU 9005 HB3 LED Headlight Bulbs, 12000LM High and Low Beam Fog Light for Cars & Trucks, 350% Super Bright LED Bulb Headlamp, 6500K Cool White Light, Wireless Plug n Play Safer Driving, 2-pack
350% Brightness Improved---9005 LED bulbs has equipped with upgraded LED Chips, 6500K Xenon White Light, up to 12,000LM per pair, 3.5 times brightness improved. 360 degree full angle illumination, no dark spots or shadowed areas, 9005 headlights allows you to see farther and wider during night driving.
50,000hrs Long Lifespan---Fanless design avoids dust ingress and noise. The all-in-one compact design with full body aluminum 6063 material makes the 9005 LED high beam bulb live more than 50,000 hrs. The intelligent IC driver will speed up the heat dissipation of 9005 HB3 LED Bulb. If the car is used for 4 hours a day, which is about 30 years of service life.
5 Minutes Easy Installation---The HB3 9005 led headlight bulbs combo are wireless designed, non-polarity plugs, plug and play. The true OEM size with the stock halogen bulbs. No additional editing or extra wiring is required (use your existing factory dust covers), it only takes 5 minutes to install and get started. Save time and money.
Reduce Accident Risk---IP65 waterproof. Works steadily in rain, wind, snow or fog, provide you with a further and clearer field of vision which ensures the best performance and harsh durability. The upgraded LED chip makes the beam pattern focus and concentrated down the road with clear cutoff line, preventing dazzling other drivers.
Pleasant shopping experience---Our LED buIb fits for 99% vehicles, works perfectly without other CAN-BUS problems. Please check your the part number on your original bulbs or amazon fitment before buying~ Plus, If you have any problems about 9005 LED bulb, please message us.We are committed to bringing you a great product and customer service.
Sale
Bestseller No. 8
36pcs Christmas Car Magnets Decorations, 24pcs Reflective Light Bulb Magnet Decorations 12pcs Line Magnets Christmas Car Magnets and Decals for Christmas Winter Holiday Mailbox Refrigerator
Package Content: You will get 24pcs reflective light bulb magnet decorations with assorted colors and 12pcs line magnets, totally 36pcs. The quantity is ample to satisfy your decoration needs.
Product Size: The light bulb shaped magnet measures about 5x10 cm / 2x4inch, and line shaped magnet measures about 20cm / 8 inch long. Please check the size of our products before buying.
Reliable Material: Our Christmas car refrigerator decorations magnets are made of premium PET seamless reflective film, sturdy and long-lasting. Repositionable and removable. They can reflect light at night. Very special and creative.
Assorted Colors: Our reflective light bulb magnets are designed into 8 colors: yellow, pink, purple, blue, orange, red, green and purplish red. 3 pieces for each color. Abundant bright colors can create a warm and joyful festival vibe for your home.
Wide Application: Our Christmas car magnets decorations can be widely applied for most metal surfaces, such as cars, garage doors, refrigerators, mailboxes, etc. Please note that these magnet decorations can't be stuck on all-aluminum body cars.
Sale
Bestseller No. 9
FAVOMOTO 2 Sets Christmas Reflective Reflective Bulb Magnets Car Decoration Reflective Bulb Magnets Car Magnets Reflective
STICKERS FOR CAR-- The holiday magnets set is shaped as light bulb. Fun way to get into the holiday elements easily.
BULB MAGNETS-- Simply place the magnets anywhere you. Brighten up your holiday decorating it with these magnetic ornaments.
CHRISTMAS DECOR-- Place them on any magnetic surface in seconds and they won't fall off. Perfectly safe for your vehicle!
FUNNY CAR MAGNETS-- When the light hits these magnets at night, they reflect the light bringing added excitement to your holiday decorating.
FRIDGE MAGNET-- Perfect for your car, garage door, refrigerator, mailbox, metal desk, metal door, fridge, magnetic board, and more.
Bestseller No. 10
Miytsya 2 Pack 9005 LED Bulbs, Super Bright Waterproof LED Front Light Spotlight, Far Near Light Exchange 9600LM 6500K Wireless LED Bulb Combination, Car Universal Bulb (Gold)
★ High Quality: 9005/H11 LED lighting with golden aluminum housing, upgraded built-in driver, compatible with each car system. Built-in powerful fan cooling + heat sink cooling, efficient and ensure durability. Waterproof and dustproof, so that the headlights always maintain the best brightness, get rid of the trouble of frequent use of replacement bulbs.
★ Super Focused Beam: Perfect beam pattern with no dark spots, custom double-sided 12pcs high concentration LED wick design. Ensures 360º uniform light and provides a wider viewing angle. Ultra-focused beam pattern design allows you to see farther and clearer, ensuring bright light illumination without dazzling oncoming drivers and improving the driving experience.
★ High Performance: Intelligent and efficient heat dissipation, applicable temperature. 6000K eye protection color, built-in intelligent top LED chip, 9600LM. visual clearer than halogen, comfortable color, reduce eye fatigue of night driving. IP67 waterproof function makes it work perfectly in any bad weather.
★ HD Vision: 9005/H11 LED headlight high power gives you 2x the field of vision, providing unparalleled lighting output whether you are driving straight, right or left. 9005/H11 led headlight bulbs allow drivers to see wildlife, falling rocks or other obstacles earlier at night with a clearer view, reducing the possibility of danger.
Last update on 2022-11-23 / Affiliate links / Images from Amazon Product Advertising API
This product was presentation was made with AAWP plugin.