March 7, 2018 NHTSA CAMPAIGN NUMBER: 18V154000
Rear Spoiler may Loosen and Detach
If the spoiler detaches while driving, it can become a road hazard, increasing the risk of a crash.
NHTSA Campaign Number: 18V154
Manufacturer BMW of North America, LLC
Components STRUCTURE
Potential Number of Units Affected 17,008
Summary
BMW of North America, LLC (BMW) is recalling certain 2018 BMW X3 xDrive30i and X3 M40i vehicles. The rear spoiler may not have been properly attached during assembly, or may be missing screws, possibly causing the spoiler to detach while driving.
Remedy
BMW will notify owners, and dealers will inspect the spoiler, correcting its attachment as necessary, free of charge. The recall is expected to begin May 1, 2018. Owners may contact BMW customer service at 1-800-525-7417.
Notes
Owners may also contact the National Highway Traffic Safety Administration Vehicle Safety Hotline at 1-888-327-4236 (TTY 1-800-424-9153), or go to www.safercar.gov.
Check if your BMW has a Recall
---
SI B51 05 18
Body Equipment
May 2018
Technical Service
DELIVERY STOP & RECALL 18V-XXX: CHECK REAR SPOILER
New information provided by this revision is preceded by this symbol

.
This Service Information bulletin supersedes SI B51 05 18 dated March 2018.
What's New:
Spoiler replacement, warranty, and parts information added
MODEL
SITUATION
BMW Group is conducting a Voluntary Safety Recall (effective March 2, 2018) on Model Year 2018 X3 SAV vehicles produced from Start-of-Production through February 23, 2018. Affected vehicles may not have been produced with all necessary screws which attach the rear spoiler to the vehicle.
Approximately 16,448 vehicles are affected by this delivery stop / recall, consisting of 3,667 in dealer inventory and 12,781 retailed. Additionally, there are approximately 560 vehicles in the pipeline.
Affected vehicles will show the campaign as "Open" when checked either in AIR or ISPA Next. Once the Warranty Vehicle Inquiry system is updated on Saturday, March 3, 2018, it will display the same information. The affected vehicles will be identified with the description: STOP012899 B510518 Recall: Check Rear Spoiler
Owners will receive a letter in early May via First Class mail, advising them of this recall.
The Q&A has been attached for further information.
CAUSE
Vehicles may not have been produced with all necessary screws which attach the rear spoiler to the vehicle.
CORRECTION
Inspect the rear spoiler and, if necessary, install the necessary screws to ensure that the rear spoiler is properly attached to the vehicle.

 In the extremely rare case that the vehicle has lost the rear spoiler, replacement will be required.
PROCEDURE
Remove the upper hatch panel window trim, following repair instructions REP 51 49 003 Removing and installing/replacing trim for rear window frame on left or right.
Determine if there are 4 screws present which attach the spoiler to the rear hatch.

Are all 4 screws installed correctly?
Yes: Proceed to step 3.
No: Proceed to step 4.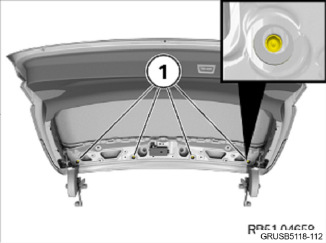 Using a suitable marker, mark the screw heads of all 4 screws indicating that they have been inspected. Afterwards, the vehicle can be reassembled and no additional repairs are required.
Install and torque the spoiler mounting screws to 2nm.

 If the vehicle lost the rear spoiler, replace the rear spoiler following repair instruction REP 51 71 407 Replace the rear spoiler.
PARTS INFORMATION
Parts are only needed for those vehicles that fail the inspection procedure.
For Procedure step # 4:
| Quantity | Description | Part Number |
| --- | --- | --- |
| 4 | Fillister head screw with collar | 07 14 7 187 828 |

 If the vehicle lost the rear spoiler, the required additional parts to repair the vehicle can be ordered and claimed under the defect code listed below.

 Also refer to ETK/EPC and the repair instructions for onetime-use fasteners/screws and other information regarding repair-related gaskets, seals, fluid and/or lubricants that also need to be replaced/used and claimed.
WARRANTY INFORMATION
Vehicles that fail the inspection procedure must be repaired before they can be retailed.
Reimbursement for this Recall campaign will be via normal claim entry utilizing the following information:
Completion "before" vehicle delivery to the customer or the vehicle is already in the workshop (Rear spoiler is in place)
| | | |
| --- | --- | --- |
| Labor Operation: | Labor Allowance: | |
| 00 66 541 | 3 FRU | Inspect mounting screws for rear spoiler (No repair is necessary) (Plus work) |
| Or: | | |
| 00 66 542 | 3 FRU | Inspect mounting screws for rear spoiler and install the screws as necessary (Plus work) |
Completion after vehicle delivery to the customer (Rear spoiler is in place)
| Labor Operation: | Labor Allowance: | Description: |
| --- | --- | --- |
| 00 66 028 | FRU | Inspect mounting screws for rear spoiler (No repair is necessary) (Main work) |
| Or: | | |
| 00 66 029 | 5 FRU | Inspect mounting screws for rear spoiler and install the screws as necessary (Main work) |

 The rear spoiler has fallen off (damaged or lost)
For this situation, in place of the above information, claim the spoiler replacement repair procedure below that applies instead
BMW Workshop Repair Portion
| Labor Operation: | Labor Allowance: | Description: |
| --- | --- | --- |
| 51 71 407 | Refer to KSD2 | Replace the rear spoiler (Main work) |
| | | |
| 51 71 921 | Refer to KSD2 | Replace the rear spoiler (Plus work) |
And, in conjunction with above:
Sublet to only paint the replacement rear spoiler
Or:
Sublet to paint and install the replacement rear spoiler (complete body shop repair)
| Labor Operation: | Labor Allowance: | Description: |
| --- | --- | --- |
| Sublet Code 3 | See Below | Paint finish repairs (Third-party sublet invoice) |
Note: Aftersales Area Manager (AAM) "Field Authorization" (FAS) is not required.
Invoice, claim and submit for the BMW part numbers for the rear spoiler and any additional related parts that your center provided to the body shop.
Invoice the corresponding and eligible paint and refinish work in sublet on the repair order at the actual cost charged with no handling or markup. The sublet must also include any discounts or allowances.
Appropriate charges are determined by comparing them to the corresponding warranty rates. Prior to performing the repair, calculate your center's repair cost and then obtain outside repair estimate(s) as required for price comparison purposes.
It is your center's responsibility to review the repair cost estimate prior to the repair being performed. This will help ensure that the amount requested for the refinish/paint work is customary, fair and reasonable. Also, it must not exceed the scope of the repair work that is described in this bulletin.
On the repair order and in claim comment section, identify the repair procedure that was performed and itemize the corresponding sublet amount
TREAD Act – Previous Customer-Pay Repairs
Since the Recall affected vehicles were produced within the last six months (Based on March 2018), reimbursement requests for prior customer-pay repairs that specifically address the issue described in this Recall bulletin are not very likely.
Posted: Monday, May 7, 2018
ATTACHMENTS
View PDF attachment B510518 Recall Notice.
View PDF attachment 2018-BMW-MY18-G01-RearSpoiler-QA-2Mar2018.
---
SAFETY RECALL NOTICE
To:  All Center Operators, Sales Managers, Service Manager, Parts Manager and Warranty Processor
RE: Delivery Stop & Recall 18V-XXX: Check Rear Spoiler B51 05 18
BMW Group is conducting a Voluntary Safety Recall (effective March 2, 2018) on Model Year 2018 X3 SAV vehicles produced from Start-of-Production through February 23, 2018. Affected vehicles may not have been produced with all necessary screws which attach the rear spoiler to the vehicle.
Owners will be notified by First Class mail about the Recall and will be instructed to bring their vehicles in for a free repair when parts are available.
Please be reminded that it is a violation of federal law (The Safety Act) for you to sell, lease or deliver any new motor vehicle covered by this notification until the recall repair has been performed.  This means that centers may not legally deliver new motor vehicles to consumers until they are fixed or use/sell replacement equipment/parts subject to this recall.  Note also that substantial civil penalties apply to violations of the Safety Act. 
Also, you should not sell, lease or deliver any Certified Pre-Owned or used vehicles subject to a safety recall until the repair is completed. 
Please follow any special instructions that we provide to you for the return or disposition of recall parts.
We appreciate all your assistance with this Recall.
---
Safety Recall 18V-XXX
Rear Spoiler
Model Year 2018
BMW X3 SAV
Last Updated 03/02/2018
Q1.
Which BMW Group models in the US are affected by this Safety Recall?
Approximately 17,008 Model Year 2018 BMW X3 SAV models in the US, produced between July 2017 and February 2018, are potentially affected.
Q2.
What is the specific issue?
The issue involves the rear spoiler.  Potentially affected vehicles may not have had the rear spoiler properly attached to the vehicle.
Q3.
What can happen as a result of this issue?
If the rear spoiler was not properly attached, then during driving, it could detach from the vehicle and become a hazard to other road users.
Q4.
How did BMW Group become aware of this issue?
BMW became aware of this issue through its quality control procedures.
Q5.
Why are other BMW Group vehicles not included in this Safety Recall?
This issue is unique to the potentially affected vehicles.
Q6.
Can I determine if this issue exists in my vehicle?
No.  This can only be determined through proper inspection at an authorized BMW center.
Q7.
How will my vehicle be repaired?
The rear spoiler will be inspected and, if necessary, properly reattached to the vehicle.
Q8.
How will I be informed of this Safety Recall?
You will receive a letter in early May via First Class mail, advising you of this recall and to immediately schedule an appointment with an authorized BMW center to have this recall performed.  You can locate your nearest authorized BMW center at www.bmwusa.com/dealers.

To ensure BMW has your most recent contact and vehicle information, please register your vehicle at www.bmwusa.com/myBMW.  Registration is free, and will give you access to factory initiated campaigns and other information specific to your BMW.

Q9.
How long will the repair take?
This repair will take approximately 1 hour; however, additional time may be required depending upon your BMW center's schedule.  The repair will be performed free of charge by your authorized BMW center.
Q10.
Do I have to wait for my letter to have my vehicle serviced?
Yes.  For the latest updates to this recall, please visit www.bmwusa.com/recall.
---
1 Affected Product
Vehicle
MAKE
MODEL
YEAR
BMW
X3
2018
---
11 Associated Documents
Remedy Instructions and TSB
RCRIT-18V154-6930.pdf 274.416KB
RCRIT-18V154-6930

---
Defect Notice 573 Report
RCLRPT-18V154-2274.PDF 215.643KB
RCLRPT-18V154-2274

---
Recall Acknowledgement
RCAK-18V154-9009.pdf 245.752KB
RCAK-18V154-9009

---
Manufacturer Notices(to Dealers,etc)
RCMN-18V154-7773.pdf 245.816KB
RCMN-18V154-7773

---
Remedy Instructions and TSB
RCRIT-18V154-4902.pdf 271.715KB
RCRIT-18V154-4902

---
Recall Quarterly Report #1, 2018-2
RCLQRT-18V154-3209.PDF 214.512KB
RCLQRT-18V154-3209

---
Remedy Instructions and TSB
RCRIT-18V154-3627.pdf 332.192KB
RCRIT-18V154-3627

---
ISSUED Owner Notification Letter(Part 577)
RCONL-18V154-6782.pdf 1005.034KB
RCONL-18V154-6782

---
Recall Quarterly Report #2, 2018-3
RCLQRT-18V154-3450.PDF 211.238KB
RCLQRT-18V154-3450

---
Recall Quarterly Report #3, 2018-4
RCLQRT-18V154-4330.PDF 211.325KB
RCLQRT-18V154-4330

---
Recall Quarterly Report #4, 2019-1
RCLQRT-18V154-5422.PDF 211.426KB
RCLQRT-18V154-5422

---
Latest Recalls Documents
https://www-odi.nhtsa.dot.gov/acms/cs/documentList.xhtml?docId=18V154&docType=RCL
---
Bestseller No. 1
Bestseller No. 2
Car Polish by Nu Finish, NF-76 Liquid Polish for Cars, Trucks, 16 Fl Oz Each
Nu Finish Liquid Car Polish keeps your car exterior looking new with only one application per year.Fit Type: Universal
Delivers impressive shine and protection without rubbing or buffing
As the only polish available with no wax, the Nu Finish formula is specifically made to protect your car's paint and clear-coat finish
Perfect for use on cars, fiberglass boats, RVs, and even chrome surfaces
Apply polish with a damp cloth, let dry to a haze, and wipe off
Bestseller No. 3
Bestseller No. 4
Meguiar's M20508 Mirror Glaze Ultra Finishing Polish - 8 Oz Bottle
EXCEPTIONAL RESULTS: Advanced technology formula provides a deep gloss and rich, swirl-free results
NO MORE SWIRLS: Permanently removes swirls and light defects from all paint
STUNNING SHINE: Produces deep reflections and high gloss
EASY TO USE: Smooth buffing feel, easy wipe-off, and fast clean-up
MULTIPLE WAYS TO APPLY: Formulated for use by Hand, DA Polisher, or Rotary Buffer
Bestseller No. 5
Carfidant Scratch and Swirl Remover - Ultimate Car Scratch Remover Compound - Auto Polish & Paint Restorer - Easily Repair Paint Scratches, Scuffs, Water Spots! Car Buffer Kit
EASY SCRATCH & SWIRL REPAIR - If your car has light scratches, swirls, or other marks - you can easily fix that with our Scratch & Swirl Remover Kit! Using the included buffer pad, our specially formulated compound will allow you to easily remove and "erase" years of wear and tear from your vehicles paint and overall appearance! (Please note if you have very deep scratches that can be easily felt with the tip of your fingernail the product may not help as much.)
ULTIMATE PAINT RESTORER - Not only will this remove swirls and scratches, it will restore the gloss and shine of your paint and bring it back to its original brilliance! The special rubbing compound will remove water spots, oxidation and other contaminants from your paint! Easily buff it all out by hand with our included buffer pad!
PREMIUM CHEMICALS - We formulate all our products to ensure they are the best! Professional grade, but easy enough for anyone to use! We use only the absolute best chemicals and ensure there are no unnecessary color dyes or scents! You get the best cutting polishing compound in a specifically formulated formula with a kit that lets you go right to work!
SAFE FOR ALL PAINT COLORS - Our Ultimate Car Paint Scratch Repair Kit is safe to use on all paints and colors. You can safely use it on any clearcoat, single stage, or multi stage paint!
MADE IN USA - CARFIDANT 100% SATISFACTION - Don't take our word that this is the best in car detailing products and car cleaning supplies, if you are not 100% satisfied we will refund you in full! We are professionals! We are enthusiasts! We spent years developing our professional automotive detailing products and believe in them 100%! We use them. Our friends use them. If you are not 100% satisfied with any of our products, we will give you a full refund! Send us a message!
Bestseller No. 6
Meguiar's Ultimate Compound, Car Compound Restores Car Paint and Car Shine - 20 Fl Oz Bottle
RESTORE CAR PAINT: One 1 pint 4 fl oz bottle of Meguiar's Ultimate Compound restores color and clarity by removing moderate oxidation, swirl marks, water spots and blemishes
IMPRESSIVE PERFORMANCE: Revolutionary formula surpasses the performance of car rubbing compound and car polishing compound tools by reducing the time and effort to obtain results
REMOVES BLEMISHES: Quickly and easily removes paint defects and maximizes car shine and gloss to prepare your paint for wax protection
EXCLUSIVE TECHNOLOGY: Micro-abrasive technology cuts as fast as other harsh abrasive auto compound products without scratching, even on clear coat finishes
VERSATILE CAR CARE: Ultimate compound can be applied by hand or by a dual action polisher for a versatile application offering
Bestseller No. 7
Sale
Bestseller No. 8
Meguiar's G7016 Gold Class Carnauba Plus Premium Liquid Wax Kit - Includes 16 Oz Bottle and Applicator Pad
Gold Class premium wax with a luxurious carnauba-polymer blend gives your paint finish strong, long-lasting wax protection with a brilliant reflective shine
Special blend of carnauba wax with protecting polymers is safe and effective on clear coats and all glossy paint types
This liquid wax features an improved formula that creates an even richer shine and leaves a deeper gloss with sharp, clear reflections
Easily glides on and off with included high-quality soft foam applicator
Can be applied by hand or with DA polisher like Meguiar's MT300 Dual Action Polisher
Sale
Bestseller No. 9
Turtle Wax T-241A Polishing Compound & Scratch Remover - 10.5 oz. , White
turtle wax is the number one selling brand of car care products in the world with sales in 90 countries.
Quickly and easily penetrates through the oxidized surface to remove scratches, blemishes and stubborn stains
the company is recognized for manufacturing appearance and performance car care products for the retail consumer market and the commercial car care and professional detailing industries.
Recommended for rubbing down between coats of newly sprayed lacquer and acrylic car finishes
Polish in a cross-hatch pattern, moving in parallel and perpendicular passes across the paint.
Bestseller No. 10
Plane Perfect 1 Ceramic Coating Spray for Airplanes, Cars, Motorcycle, Boat, Marine, RV – 16oz High Gloss Detailer Spray – Advanced SiO2 Ceramic Polish Hydrophobic Aviation Grade Spray
Premium Ceramic Quick Detailer – Designed to protect your vehicle's color from fading, scratches, and harsh UVA and UVB rays our ceramic spray helps retain vibrant color quality and creates a gorgeous surface sheen. Can be used as a dry wash or quick detailer. No prep needed!
Advanced Spot Resistant Protection – Offering true hydrophobic protection our ceramic spray coating helps your car, truck, RV, boat, or airplane shed water to prevent water spots from forming for a beautiful finish
Scratch and Scuff Prevention – This ceramic spray wax does more than give your vehicle a brilliant shine, it features an SiO2 ceramic formula that can also help protect it from small scratches when buffing or washing the surface
Streak-Free, Mirrorlike Shine – We want your ride looking like it rolled off the showroom floor which is why our ceramic spray coating also produces a mirrored finish that's super glossy and really enhances colors and curves. Layers on itself and other products - no prep needed!
High UV Index Coverage – Along with color vibrance and scratch resistance this ceramic detailer spray protects against long-term sun damage caused by harsh sun rays, so you can keep your car, boat, or airplane looking newer, longer
Last update on 2023-05-21 / Affiliate links / Images from Amazon Product Advertising API
This product was presentation was made with AAWP plugin.